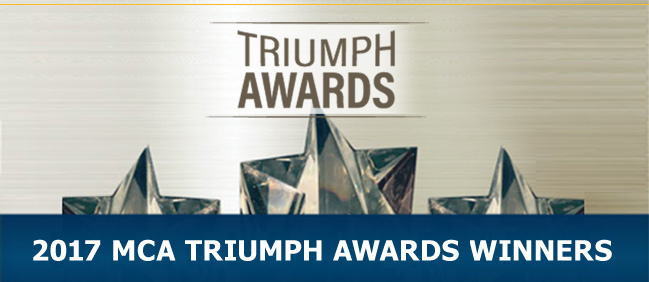 The Triumph Awards celebrate metal industry professionals whose accomplishments demonstrate outstanding commitment to advancing the metal construction and building industries. Presented by Metal Construction Association, and announced at METALCON on Oct. 18, 2017, we are honored to reveal the winners below!

Industry Champion Of The Year
Dick Bus, ATAS International
LEARN MORE

>

Industry Young Movers & Shakers
Shawn Haddock, S-5!
Brandon Kilpatrick, DI Roof Seamers Canada
Haley Iselin, Metal Roof Specialties
LEARN MORE

>

Industry Media Executive/Journalist of the Year
Christina Koch, Retrofit Magazine
John Paul Lawrence, Modern Trade Communications
LEARN MORE

>

Industry Sales Person of the Year
Ken McLauchlan, Drexel Metals
Chris Kroeter, ATAS International
LEARN MORE

>

Entrepreneur of the Year
Jeff Patch, Premium Panels
LEARN MORE

>
Corporate Citizen of the Year
Drexel Metals
ATAS International
LEARN MORE

>

Emerging Business of the Year
Barrett Hahn, Roofing Magazine
LEARN MORE

>