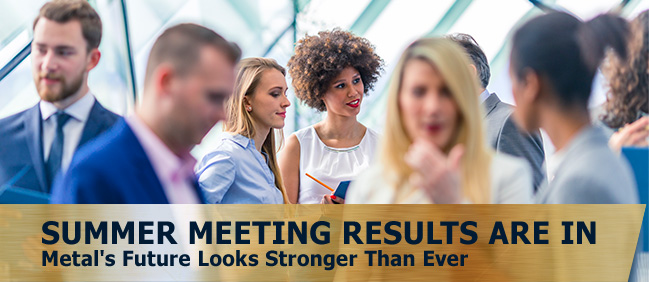 The 2018 MCA Annual Market Study, presented by Randy Giggard of FMI, analyzes the position of metal roofing and wall products across the Residential, Agricultural, Commercial, Industrial and Institutional sectors. Findings include:


Metal is still gaining market share in roof and wall products across all markets sectors examined.
Metal construction spending is projected to reach $2.8B and $1.8B for roof and wall products respectively by 2021.
Key market trends are providing a tailwind for the metals industry, including adoption of solar power and energy codes.


BUT WAIT, THERE'S MORE!
Other Summer Meeting Tidbits
Keeping MCA members educated and informed continues to be a priority. We're happy to announce:


the sustainability and durability of metal roofing and wall systems
how the sustainable building market is driving the evolution of product category rules (PCRs), life-cycle assessments (LCAs), and environmental product declarations (EPDs)
extensive metal roof and cladding industry efforts to perform LCA studies and make this information freely available industry-wide.
how metal roofing and cladding systems compare to other systems in terms of LCA
shortcomings with current LCAs and subsequent EPDs and how they are being addressed


PLANS FOR THE PLANET
Use EPDs to Save Energy & Resources
Environmental Product Declarations (EPDs) can help you use LEED building materials to create more energy-efficient and environmentally responsible buildings. EPDs have been developed for MCMs, IMPs and Roll Formed Panels. To learn more, download executive summaries or full reports:



ENLIGHTENING UPDATE ON LIGHTNING
Advantages of Metal Roofing During Storms
Metal roofs don't increase the risk of a lightning strike. And if lightning does strike, they can help save property—and lives. Learn how, in our recently updated technical bulletin, "Lightning and Metal Roofing".



CHANGE IS GOOD
New Format for METALCON
METALCON is buzzing with excitement about new dynamic changes for Oct. 10-12 in Charlotte, NC. It's called The Total Experience, with everything now in one place. Start your day on the show floor—and stay there. No running around looking for classrooms. MCA members still get 10% off booth space.