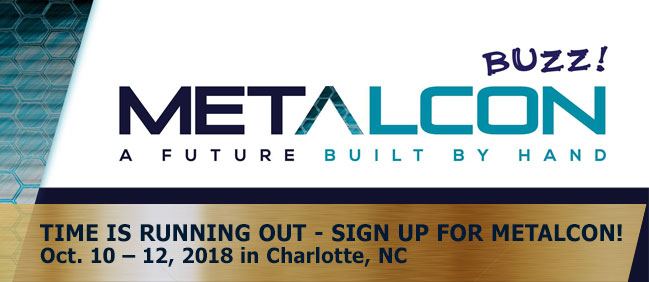 Don't miss this opportunity to take your business to the next level. Experts in their field will share their knowledge in a new format called THE TOTAL EXPERIENCE. Start your day on the show floor—and stay there. No running around looking for classrooms. One price, one amazing event. The clock is winding down—reserve now!


Already registered? Know someone who could benefit?
SHARE THIS EMAIL

HURRY, SECURE YOUR SPOT FOR THESE MCA SESSIONS
MCA's Committees will be providing important updates on:


Best Practices for Installing Insulated Metal Plates
Demystifying the Rainscreen Concept
What to Know About Metal Composite Materials
Roofing and Walls: Insulating Single Skin Panels for Today's Code Compliance Requirements
Foreign Fires' Impact upon North American Building Codes and Practices

LAST CALL TO COMPETE IN MCA'S ROOFING CHAMPIONSHIP GAMES
There are only a few spots left to compete in the 2018 MCA METALCON Metal Roofing Championship Games. Grand prize for the winning team: $2,000!



DON'T MISS MCA's METAL ROOF INSTALLATION TRAINING
While you're at METALCON, get hands-on experience with substrates, safety, sealants, flashings, panel types and connections, tools, fasteners, maintenance and more.

EMAIL NOW FOR THIS FREE PRECONFERENCE SESSION
MCA is hosting "Combustibles in Construction: Where Do We Go from Here?" on 10/9, 2pm -5pm. Get new info on Grenfell & the performance of other combustible wall assemblies. Space is limited. Email now to register.


SIGN UP FOR THIS IMP COURSE ASAP
"Insulated Metal Panel Building Types & Related Estimating Guidelines" will be presented by MCA's IMP Committee on October 10th from 8:30am - 9:30am in Room 208A. This $95 course will cover bidding and estimating IMPs for all factors and building types.