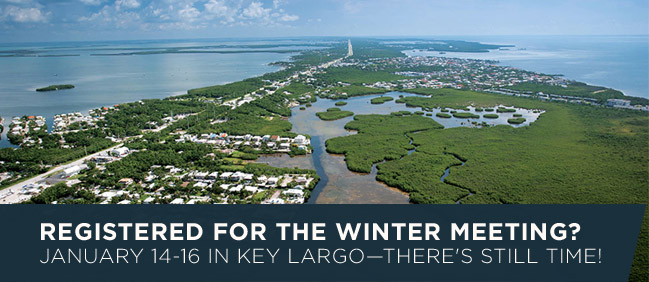 | | |
| --- | --- |
| The holidays can get a little busy, so make plans ASAP for MCA's Winter Meeting, held this year at the beautiful Ocean Reef Club in Key Largo, FL. Don't miss this unique opportunity to network, learn, and give input on current issues that will impact the industry—and your business. Get updated on the latest developments in: | |
• Metal Roofing
• MCMs
• IMPs
• Roll-forming

• Codes & Standards
• Membership
• METALCON
• Programming

FOR SERIOUS METALHEADS

MCA's certification programs are designed by the industry's leading experts—to make YOU a leading expert. Are you serious about building your knowledge, confidence, and reputation? Certification is the way to go!



METAL ROOFING CERTIFICATION
Help Your Customers Reach New Heights

With the knowledge that comes with certification, you'll be able to guide contractors and consumers alike in choosing the right metal roof for their needs. This program is open to paint & coatings companies, roofing product manufacturers, coil processors, and roll formers.



ROOF INSTALLATION MANUAL - FREE!
Your Best Source for Best Practices

Get your FREE copy of the Metal Roof Installation Manual from MCA. The manual includes 20 chapters and hundreds of pages and illustrations to make sure industry best practices are used when installing metal roofs. It's a great way to educate both new and experienced metal roof installers. Then, test your knowledge with the exam available.



MCM PREMIUM FABRICATOR CERTIFICATION
Serious Training for Serious Projects

Interested in metal composite materials (MCMs) for high-end, monumental building projects? With this certification program, you'll be joining a powerful group that includes CEI Materials, LLC, Custom Metal Contracting, East Coast Metal Systems, Miller-Clapperton Partnership, NOW Specialties, Quality Metalcrafts, LLC/Americlad, Shaffner Heaney Associates, and Sobotec.


WHITE PAPER ALERT!

MCA is continuously updating technical resources to give you the most current, comprehensive coverage of the most important issues affecting our industry today. Below are two recently updated/developed white papers, free to download.



Choosing Between Fire Retardant & Standard Core Metal Composite Material

MCM manufacturers typically provide two types of core products: standard and fire retardant. MCA's MCM Fabricator Council has updated this paper to clarify the allowable uses for standard and fire retardant MCM in accordance with the 2006-2018 editions of the International Building Code.



Service Life Assessment of Low-Slope Unpainted 55% Al-Zn Alloy Coated Steel Standing Seam Metal Roof Systems

Chock-full of photographs and data, this extensive report documents and summarizes the work conducted to determine the roof service life of a low-slope 55% Al-Zn alloy-coated steel Standing Seam Roof (SSR) system when installed using best practices. Download the summary or full report.