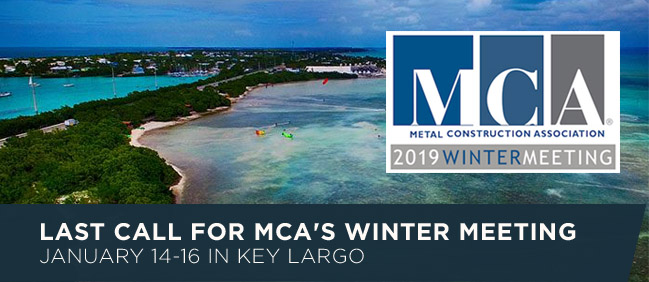 Start 2019 on the right foot! Don't miss this unique opportunity to network, learn, and give input on current issues that will impact the industry—and your business. Get updated on the latest developments in major areas such as:

• Metal Roofing
• MCMs
• IMPs
• Roll-forming

• Codes & Standards
• Membership
• METALCON
• Programming


TECHNICAL RESOURCE UPDATE
"Recycled Content of Metal Roofing & Siding Panels"

Metal roofing & siding are made with the highest recycled content from the most recyclable materials on earth. Learn about all the environmental and economic advantages.


THE SCOOP ON STEEL

When it comes to construction, steel is a great choice for several reasons. Especially when it comes from North America.



Steel Defies Winter

Steelwork at the construction site is not restricted by wintery conditions, with the possible exception of high winds. With proper planning, work can continue year-round. Other benefits include:

No shrinkage
Steel systems come prepared to support mechanical, electrical and plumbing systems
Steel structures are predictable and consistent, allowing for more efficient construction and earlier occupancy
Steel lends itself to prefabrication, allowing for off-site assemblage off-site in a controlled environment for precision-engineered components

North American Steel Is Less Gassy

According to a new study, steel from North America has nearly 50% lower greenhouse gas emissions than from China.