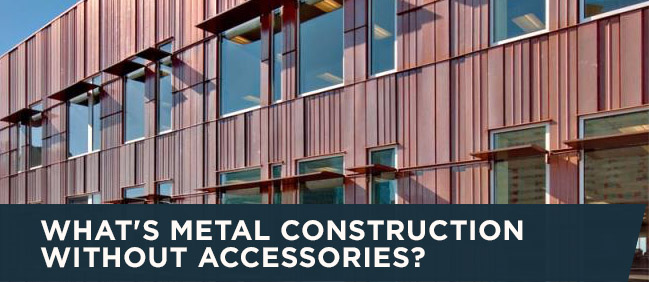 The Benefits & Applications Are Endless
From structural products to fasteners, metal roofing and wall panels would not be complete without a massive selection of ancillaries and accessories. MCA member companies provide many different component products to give your building both beauty and durability, often with custom accessories to help you complete your project without design limitations.



Here are just some of the accessories that can enhance your next metal construction project:


•

SUN SHADES

- Add aesthetic value, comfort and energy savings.
•

THERMAL CLIPS

- Provide continuous insulation.
•

METAL ROOF UNDERLAYMENT

- Think of this accessory as storm insurance.
•

FIRE BARRIERS

- Various ways to make your buildings safer.
•

SOLAR ATTACHMENTS

- Take roofing to the next level.
•

ATTACHMENTS FOR DISSIMILAR MATERIALS

- Perfect for securing different metals to each other or with other materials.
•

INSULATION SYSTEMS

- Reduce heat transfer & condensation.
•

FASTERNER COATINGS

- Add durability & prevent unsightly rust.

ACCESSORIZE WISELY
These White Papers Can Help!

Whether accessorizing for strength, functionality, aesthetics or safety, MCA's Accessories Council has provided best practices for virtually any building type.


•

"Proper Tools for Fastening Metal Panels"

- Avoid damage to fastener heads, overdriving, scratches, & damage to paint finishes leading to premature corrosion.
•

"Guidelines for Touch-Up Paint Systems on Metal Panels"

- Learn the options and precautions for this potentially touchy issue.
•

"Standing Seam Roof Clips Best Practices Guide"

- See how thermal clips can provide continuous insulation.
•

"Fastener Compatibility with Profiled Metal Roof and Wall Panels"

- Choose the right type of fastener to ensure a strong, weather-tight attachment.

WELCOME THESE NEW MEMBERS TO MCA!
Six More Companies Providing Outstanding Products & Services

MCA is excited to announce six companies have recently joined more than 90 other manufacturers and suppliers dedicated to expanding and developing the metal construction industry through MCA. They are:

American Contractors Insurance Group (ACIG) - Based in Richardson, TX, ACIG provides insurance policies and related services to the construction industry, helping to save lives, prevent injuries and reduce cost of risk.

DBCI - This leading manufacturer of steel curtain roll-up doors for both the commercial and self-storage markets is headquartered in Douglasville, GA with facilities in Houston, TX and Chandler, AZ.

ISOCINDU Insulating Design - This producer of corrugated sheets, roofing, walls and special products has locations in Italy, Germany, the Czech Republic, Romania and Mexico.

Maness & Associates, LLC - Assisting clients nationwide with recruiting and staffing needs for more than 25 years, this Fairfield, Texas-based firm has special expertise in the metal construction industry.

Northern Facades Ltd - These specialists work with installers, contractors, architects, building envelope consultants, developers and ownership groups to design and supply façades that last for generations.

Samuel, Son & Co. - Founded in 1855, this integrated network of metal manufacturing, processing and distribution divisions is headquartered in Mississauga, Ontario with service centers across the globe.