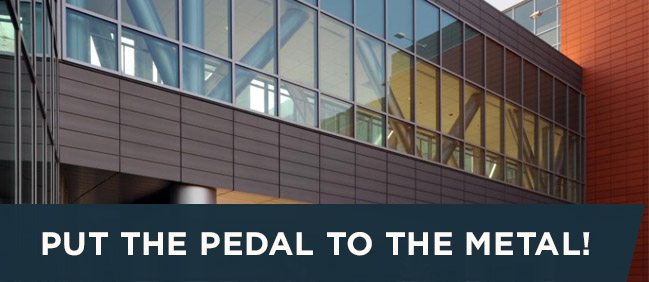 There's still time to register for MCA Summer Meeting.
June 25-26, 2019 | Rosemont, IL



MCA Councils and Committees will be convening to discuss promoting the many benefits and uses of metal in the construction industry. Along with the important conversations surrounding best practices, changes to the industry, and codes impacting metal construction, there will be many networking opportunities with colleagues and costumers.

First-time attendees get nearly 50% off!


METAL WALL PANELS SHINE ON
Why Their Popularity Is Building

It's no wonder Metal Wall Panels are popular in both commercial and residential construction. They offer a multitude of design capabilities advantages such as:

Aesthetics. Metal panels create a beautiful appearance for exterior and interior applications. Both shiny and matte finishes can be shaped into a wide array of patterns, to look ultra-modern or vintage.

Fireproofing. While fire is always a risk in any building, metal walls can act as a barrier to fire to help keep an active fire from spreading and the affected area cool during intense heat.

Rain Screen. Metal panels act as a rain screen and barrier, keeping water from entering a building and spreading from room to room. In rainy climates, metal barriers can prevent mold and decay of other building materials.

Energy Savings. Metal's density saves energy, lowering expenses for building owners. Metal walls are eco-friendly and meet building regulations for sustainable materials. Carbon footprints and stresses on the earth's resources are reduced.

Durability. Metal walls hold up extremely well to daily wear and tear, with hardness varying slightly depending on the type of metal. These panels do not dent or ding easily. They maintain their beauty for years.

Low Installation and Maintenance Costs. In most cases, metal wall panels can be installed more quickly than brick, granite, precast and other materials. Metal Wall Panels are typically lighter, requiring less support structure.

Design Flexibility. Metal walls make it easy for architects and interior designers to meet their unique design specifications. An extensive selection of colors, textures and designs can be adapted for most commercial and residential projects.

Whether MCM, IMP or Single Skin, today's Metal Wall Panels are definitely on the rise.


THIS MONTH'S METAL OF HONOR
Life Really Is A Dance

Having outgrown its suburban space, Ballet Memphis sought to move to the city's revitalized performing-arts district. The new facility houses rehearsal space for the professional company, a dance school for more than 200 children, and community dance and Pilates classes. The largest rehearsal studio also doubles as a performance venue.

Transparency, a major aspect of the Company's mission, is expressed in the building's use of metal—a material that's not typically see-through but is transformed as such in this case by the perforation of the panels. The zinc and copper, which will age beautifully over time, were also key to staying on budget and within the aesthetic context of several houses in the neighborhood having copper elements.

The building reinforces the street corridor and the relationships throughout the neighborhood, maintaining the integrity of the street, while the space between the copper and the steel adds a layer of a narrow street facade.