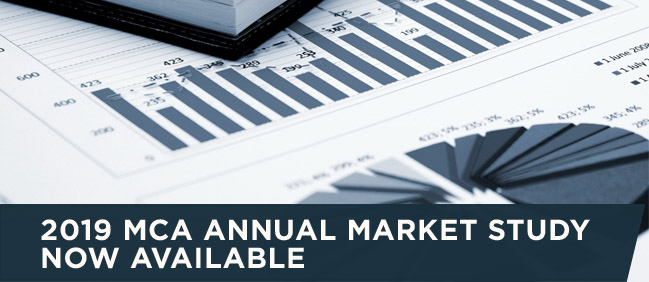 A Must for Anyone Involved in Metal Construction

A big shout out to everyone who attended and participated in our Summer Meeting last month. The 2019 MCA Annual Market Study, presented by keynote speaker Randy Giggard of FMI Corporation, is now available in the Members-Only Section of the MCA website. Just a few of the findings:


| | |
| --- | --- |
| • | Private capital investment in construction technology reached nearly $600 million in 2017, an increase of nearly 200% from 2013 |
| • | Asphalt shingles now pose the greatest competitive threat in the residential roofing market |
| • | The geographic concentration of construction projects has given way to the formation of Megapolitans. Which one are you located near? |

This 40-page study will prove helpful, if not indispensable, advice to anyone involved in metal construction.


BECOME A ROOFING KNOW-IT-ALL
Get Your Metal Roofing Certification!

Set yourself apart as trusted expert among homeowners, design professionals and contractors. MCA's Metal Roofing Certification Program is open to:


| | |
| --- | --- |
| • | Paint & coating manufacturers |
| • | Roofing product manufacturers |
| • | Coil processors |
| • | Regional manufacturers/mobile roll formers |

Based on industry standards published in the Guide Specification for Residential Metal Roofing, this program offers certification of base metal and finishes.


GET READY TO SHOW OFF YOUR METAL
Submit to the 2019 MCA Chairman's Awards

Submissions from MCA member companies will be accepted in eight categories and judged by a panel of distinguished judges. Have a project or two you're proud of? Bring it!


THIS MONTH'S METAL OF HONOR
Metal Is A Game-Changer for NBA Arena

Washington D.C.'s Entertainment and Sports Arena, which opened in September 2018, serves as the practice facility for the NBA's Washington Wizards and the home arena for the WNBA's Washington Mystics and the NBA G League's Capital City Go-Go. It also hosts concerts, boxing and other events.

While terracotta was initially proposed, using insulated metal panels instead saved an estimated $100,000 - $200,000—and resulted in a beautiful facade of standard and customized colors that blend into the surrounding buildings, some of which date back to the 1930s.

The project called for an envelope that did not show any visible fasteners, no small feat considering that the metal panels exceeded 53,000 square feet. A concealed fastener solution delivered a smooth, flat appearance without the need for exposed trim at the base, corners or openings.