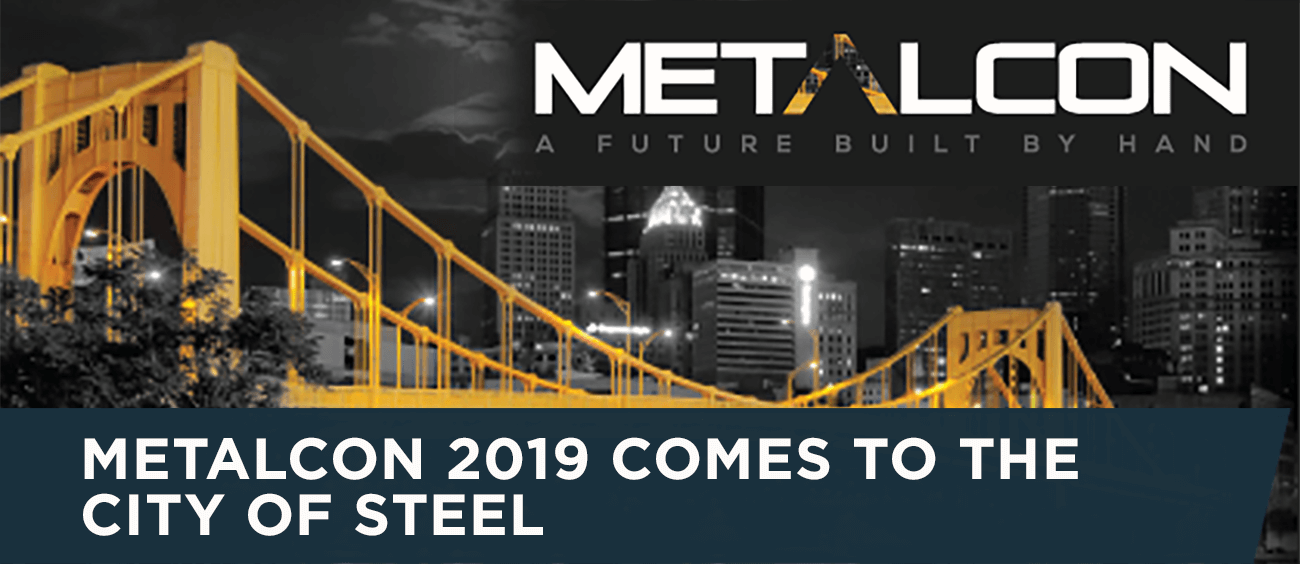 Oct. 16–18 in Pittsburgh
This year, METALCON will bring together industry leaders from all over the world to Pittsburgh, PA. What better city than the birthplace of the steel industry? And what better venue than the LEED® Platinum Certified David L. Lawrence Convention Center, backdropped by the Allegheny River? The stage is set for the best METALCON yet.
"The real judge of quality in a show is how it helps you build relationships. METALCON keeps drawing a fresh audience, and that expands our opportunities to establish new relationships each year." —Ed Karper, Dura Coat Products, Inc.
"The emphasis on electronics may work well for marketing, but when it comes to our products, the contactors have to see them and understand how they can use them. It has to be face-to-face, and that's why we're at METALCON – to meet and talk with contractors." —Dale Nelson, Roof Hugger

The Total Experience
Pay one price and get full access to:
| | |
| --- | --- |
| • | exhibits |
| • | educational sessions |
| • | NEW interactive and innovative CONTECH technology hub |
| • | an Innovation Station Scavenger Hunt (your chance to win cash prizes) |
| • | networking opportunities such as Oktoberfest (free beer!) |
| • | FREE photo booth at The Deck |

Metal Roof Installation Training Program
Join industry expert Jim Bush of ATAS International as he leads a two-day, eight-hour certification program based on MCA's Metal Roof Installation Manual. Register in advance and receive reduced pricing through September 30.


YOUR ROOFING IQ WILL GO THROUGH THE ROOF
Metal Roofing Systems Course — University of Wisconsin-Madison, Dec. 5–6
"The most informative and entertaining presentation on metal roofs you will ever see. Simply put, if you own, build, design or inspect metal roofs you need to take this class!" —John, Northland Consulting Engineers, Duluth, MN
This two-day course covers all the basics and nuances in both low-slope and steep-slope metal roofing systems. You'll learn about:
| | |
| --- | --- |
| • | metal roofing history |
| • | commonly specified materials and coatings |
| • | typical seam profiles |
| • | attachment techniques |
| • | sealants |
| • | flashings |
| • | underlayment |
| • | snow retention |
| • | re-roofing concerns |
| • | design details |
"A wealth of knowledge. Amazing class...I liked all the hands-on demonstration, and the amount of in-depth coverage." —Leonard, USAF, Hurlburt Field, FL

Meet Your Instructors
Robert Haddock - Director, The Metal Roof Advisory Group
For 15 years, Rob operated one of the nation's largest metal roofing companies. He has authored training and educational curricula for various trade groups. Rob served on the faculty at Roofing Industry Educational Institute and holds several US and foreign patents. He is a member of NRCA and ASTM, as well as a lifetime honorary member of the Systems Builders Association and MCA.
Mark Malkin, PE - Program Director
Mark directs UW-Madison's Department of Engineering Professional Development. He is a registered Professional Engineer with 25+ years in university construction project management and HVAC systems design. His course offerings include building and property maintenance code review, and design and operation of science labs, data centers, museums and libraries.


THIS MONTH'S METAL OF HONOR
Roofing For Robotics
Whether developing highly advanced data server racks for the military or educational toys to inspire the next generation of engineers, Innovation First International is at the forefront of robotics. The design concept for their Greenville, Texas headquarters called for a metal roof system in the form of Metl-Span's high-performance CFR 42 insulated standing seam panel.
The panels' sleek 2-inch standing seam provides long, even sightlines, further contributing to the project's industrial aesthetic. The panels feature an innovative weathertight vertical seam, which saves on installation thanks to fewer side joints. Factory-cut panel ends and factory notching also helped eliminate field work and erection costs.

Share This Newsletter:
Privacy Policy
Subscribe To This E-Newsletter
Send to a Friend
© 2019 Metal Construction Association. All Rights Reserved. Other products, names, text, and images are copyrights or trademarks of their respective owners. We respect your privacy. If you no longer wish to receive e‑newsletters from Metal Construction Association, click here to remove yourself from our list.