September 2019 Newsletter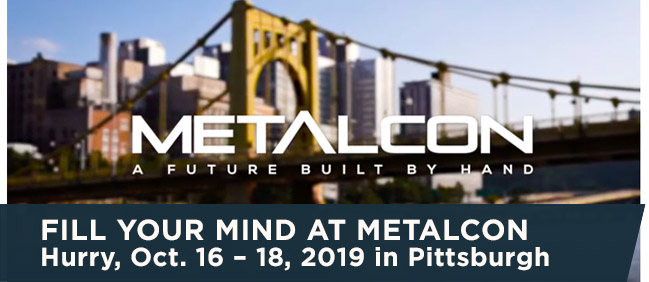 There are so many opportunities to deepen your knowledge on all things metal.
Don't miss the best METALCON yet in the City of Steel. Learn from designers, builders, developers, contractors, fabricators and suppliers from more than 50 countries and experts from more than 275 companies who'll exhibit the latest products and technology. Pay one price and get full access to:
| | |
| --- | --- |
| • | Exhibits |
| • | Educational sessions |
| • | NEW interactive and innovative CONTECH technology hub |
| • | An Innovation Station Scavenger Hunt (your chance to win cash prizes) |
| • | Networking opportunities such as Oktoberfest (free beer!) |
| • | FREE photo booth at The Deck |
Time's running out! Register now!

NEW METALCON STARS TO GET YOU THINKING
Sam Beiler, Co-founder & CEO of Boostpoint LLC
Sam is a marketing professional and entrepreneur who understands that building a brand isn't just for big businesses with big budgets. Gain valuable insights at

How to Build a Local Brand that Generates More Business

in the Learning Center on Wednesday, Oct. 16, from 2:00-2:30 p.m. "Whether you're a small-town business or a big corporation, social media plays a huge role in keeping your business relevant in today's digital age," he says. "My session will teach attendees how to take their businesses to the next level."

Ryan Groth, Founder of Sales Transformation Group, Inc.
Ryan is an entrepreneur who first became involved in the contracting business with his family as a teen. Today, he helps contractors transition from living in an unpredictable world to creating high-performing sales organizations. Don't miss his presentation,

Predictable Revenue: 5 Steps to Getting off the Revenue Rollercoaster

in the PPG Theater on Thursday, Oct. 17, from 1:00-1:45 p.m.


METAL ROOF INSTALLATION TRAINING AT METALCON
Learning comes to life with MCA'S Metal Roof Installation Training taught live by the industry's top experts! Get hands-on experience with substrates, safety, sealants, flashings, panel types and connections, tools, fasteners, maintenance and more.


TAKE YOUR ROOFING KNOW-HOW TO THE NEXT LEVEL
Metal Roofing Systems Course - University of Wisconsin-Madison, Dec. 5 & 6
This two-day course covers all the basics and nuances in both low-slope and steep-slope metal roofing systems. Learn all about:
| | |
| --- | --- |
| • | attachment techniques |
| • | flashings |
| • | underlayment |
| • | snow retention |
| • | re-roofing concerns |
| • | design details |
You'll be in the capable hands of two roofing masters: Rob Haddock, Director of the Metal Roof Advisory Group, and Mark Malkin, Director of UW-Madison's Department of Engineering Professional Development.


THIS MONTH'S METAL OF HONOR
Charleston Civic Center Transformed by MCM
Thanks in large part to the use of Metal Composite Material (MCM), the Charleston Civic Center has evolved into a more efficient, sustainable, dynamic, and iconic destination. Dramatic exterior color-changing lighting on the northeast, southeast, southwest, and northwest faces transform the look and feel of the center into a fun and festive landmark.

Share This Newsletter: