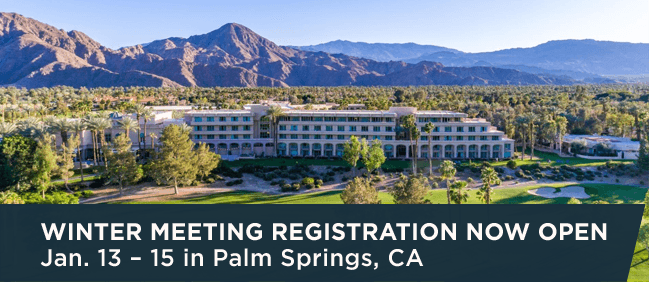 Each winter, MCA members gather at unique venues to discuss the many important issues that lay before our industry. In 2020, we venture to the gorgeous Hyatt Regency Indian Wells resort near Palm Springs, CA.

MCA meetings are jam packed with information, presentations and critical discussions. The Winter Meeting also includes elections, awards ceremonies and plenty of networking opportunities.

This year's optional events include a Palm Springs Aerial Tramway tour or Golf Outing at the Celebrity Course. You can simply add these events to your registration.


TIME TO MAKE THIS ROOFING COURSE A HIGH PRIORITY




Coming Up Next Month!



If you design, install, commission, maintain or repair metal roofing systems, this course will provide the tools and techniques to do your job correctly and avoid problems. Learn all the basics and nuances in both low-slope and steep-slope metal roofing systems, including:

• metal roofing history
• commonly specified materials and coatings
• typical seam profiles
• attachment techniques
• sealants
• flashings
• underlayment
• snow retention
• re-roofing concerns
• design details

You'll be in the capable hands of two roofing masters: Rob Haddock, Director of the Metal Roof Advisory Group, and Mark Malkin, Director of UW-Madison's Department of Engineering Professional Development.

Metal Roofing Systems Course
Dec. 5 & 6 | Madison, WI


PORTABLE ROLLFORMER BEST PRACTICES MANUAL




Equip Yourself with Knowledge



This fundamental yet practical guide to portable roll-former equipment covers basic operation, safety, and maintenance procedures followed by standard troubleshooting suggestions for standard portable roll-forming processes.


THIS MONTH'S METAL OF HONOR




Residential Towers Beautified by A Multitude of Metals



The Yards in Washington, D. C. sits on 42 acres of historic property with its buildings preserved and adaptively reused for residential, office and retail spaces. MCM, single-skin metal panels and perforated panels beautifully juxtapose each ten-story tower's mostly glass façade. Steel balcony rails give way to unobstructed views of the city for tenants and offer a unique and captivating exterior design.

METAL CONSTRUCTION ASSOCIATION


8735 W. HIGGINS RD., SUITE 300, CHICAGO, IL
(P) 847 375 4718 (f) 847 345 6488
(E) MCA@METALCONSTRUCTION.ORG

Privacy Policy
Subscribe To This E-Newsletter
Send to a Friend
© 2019 Metal Construction Association. All Rights Reserved. Other products, names, text, and images are copyrights or trademarks of their respective owners. We respect your privacy. If you no longer wish to receive e-newsletters from Metal Construction Association, click here to remove yourself from our list.