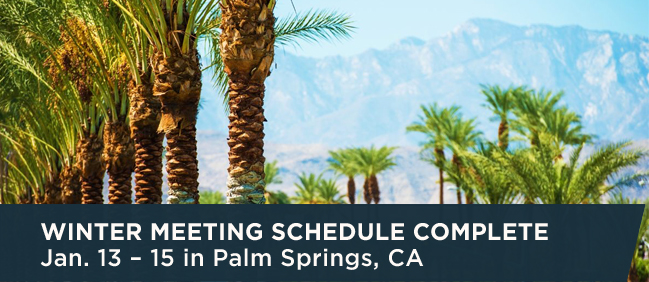 The MCA 2020 Winter Meeting is coming up fast. Don't miss important industry updates, networking opportunities, awards ceremonies and much more. Optional events include a Palm Springs Aerial Tramway tour or golf at the Celebrity Course.


NOT REGISTERED? HERE'S WHY YOU SHOULD



The MCA Winter Meeting is a rare opportunity to join industry peers in working sessions, formal discussions, and networking; be involved in the important work of our councils and committees; and have a voice in our marketing and technical activities. The conditions are ideal for you to advance your business and our industry.


NEW! AND JUST IN TIME FOR WINTER




Metal Roofing for Cold Climates



Metal roofs have long been chosen for their superior response and tolerance in snowy areas. Complete with photos and diagrams, this new 13-page technical bulletin will provide the designer with necessary information about general design parameters and snow-melt phenomena. Considerations include effects caused by snow loads, thawing, melting, icing, and more.


NEW METAL FLASHING TEST STANDARD




Test Method for Wind Load Resistance of Flashings Used with Metal Roof Systems



Metal roofing typically withstands the forces of nature better than most traditional roof systems. However, when a roof failure does occur, research shows that flashings are a common contributor. Download the new ANSI/MCA test standards for flashings by clicking the button below.


TAKE MCM TO THE MAX




MCM Fabricator Certification Program



For fabricators interested in MCM for high-end, monumental building projects, certification is available through MCA's Premium MCM Fabricator Certification Program. This program is not intended to identify minimum standards for other projects. Upon meeting program standards and promoting MCM for high-end use, you'll be joining a select group of the industry's most highly regarded MCM fabricators.


THIS MONTH'S METAL OF HONOR




MCM Takes Part in World Demonstration Project



The Exo apartments in Weston, VA consist of two identical 16-floor towers connected with a single-story reception-area link building. MCM was selected as a complementary building material to the Exo's color-changing smart glass technology that adjusts window tint to receive optimal natural light.

150,000 square feet of MCM was used in a color-shifting finishing system that showcases the natural color transitions that occur. The system beautifully juxtaposes the pre-glazed windows, whose electrochromic technology is controlled by residents via an app.

METAL CONSTRUCTION ASSOCIATION


8735 W. HIGGINS RD., SUITE 300, CHICAGO, IL
(P) 847 375 4718 (f) 847 345 6488
(E) MCA@METALCONSTRUCTION.ORG

Privacy Policy
Subscribe To This E-Newsletter
Send to a Friend
© 2019 Metal Construction Association. All Rights Reserved. Other products, names, text, and images are copyrights or trademarks of their respective owners. We respect your privacy. If you no longer wish to receive e-newsletters from Metal Construction Association, click here to remove yourself from our list.