August 2020
Metal Construction Association Newsletter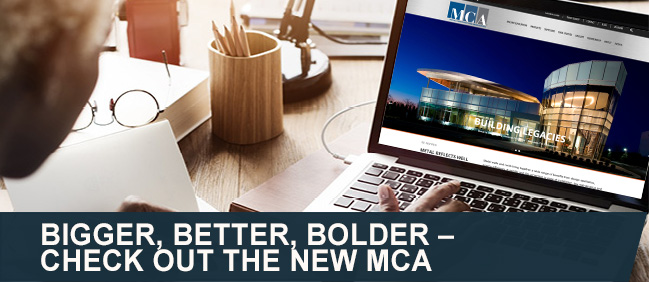 Learn how metal construction brings longevity, recyclability, and compatibility with retrofits and rooftop solar technology to present an impressive sustainable scorecard.

Thursday, August 20 at 2 PM EDT.
Credits: 1 AIA LU/HSW; 1 AIBD P-CE; 0.1 IACET CEU




MCA URGES CONGRESS TO CONSIDER HOME IMPROVEMENT TAX CREDIT



The Metal Construction Association has joined a coalition of associations and businesses across the home improvement, roofing manufacturing, and construction industries to call on Congress and the White House to create a home improvement tax credit. As Washington considers ways to stimulate the economy, this tax credit will spur local economies and provide job security for over 1 million workers in the sector.


New And Updated White Papers



MCA has published three new white papers, two new and one updated, covering design and safety aspects of metal construction: metal roofing, metal walls, and metal fasteners.

• Is My Exterior Wall Material Truly Noncombustible?

• Best Practices: Metal Building Sealant Types and Application Guidelines

• Fastener Compatibility with Profiled Metal Roof and Wall Panels


WE'VE RAISED THE STANDARDS TO STRENGTHEN METAL ROOFING



Go beyond code requirements for metal flashings. Learn about the testing of ridge caps and gable trim in our new ANSI Metal Edge Test Standards.


BECOME A MEMBER NOW AND SAVE 25%



With all of this exciting news, you have every reason to join MCA now. But there's even more incentive! For a limited time, first-year members receive 25% off dues. As an MCA member, you'll have unparalleled networking opportunities, access to research, technical reports, industry information, and many other important benefits.

METAL CONSTRUCTION ASSOCIATION


8735 W. HIGGINS RD., SUITE 300, CHICAGO, IL
(P) 847 375 4718 (f) 847 345 6488
(E) MCA@METALCONSTRUCTION.ORG