December 2021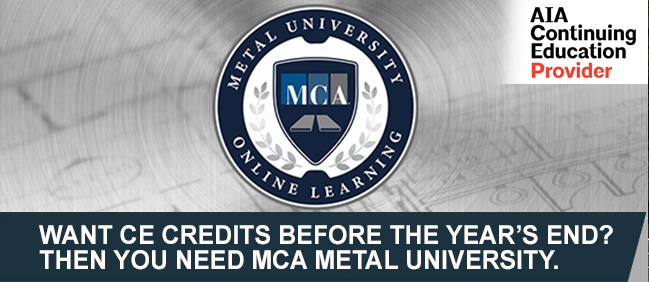 MCA Metal University has you covered to get your AIA LU/HSW and AIA LU/Elective credits before it's too late. Here are a few options:
METAL ARCHITECTURE ACADEMY



Earn 8 AIA LU (3 AIA LU/HSW; 5 AIA LU/Electives)
In the field of architecture, metal walls and roofing offer sustainable, flexible solutions that make the design process fresh and exciting.



MCM - A REVOLUTION IN MODERN ARCHITECTURE



Earn 1 AIA LU/HSW
MCM turns buildings into works of art. This primer reviews the available options for MCM skins, including finishes, materials, and specifications and discusses how MCM skins promote sustainability and practicability of the structure through its life cycle.



TO CODE...AND BEYOND!



Earn 1 AIA LU/HSW
Understanding how to deliver high-performance, code-compliant buildings can be complex and confusing. Not only are architects charged with satisfying performance and structural requirements, but, in order to meet these conditions, the contemporary envelope also may now incorporate increased amounts of combustible materials in cladding, insulation, and water-resistive barriers.




NEW YEAR, NEW RESOLUTIONS, NEW MCA MEMBERSHIP



Hit the ground running in 2022 by becoming an MCA member! Get in on major industry events like our Winter and Summer Meetings, full access to research, and networking opportunities. Your 2022 strategy for success is stronger and smarter with MCA on your team!




THANK YOU FOR MAKING THE MCA WEBSITE A HIT!



With over 135,000 hits in 2021, you've proven our efforts to make metalconstruction.org a more important and better resource have paid off! We couldn't be more thrilled with the response and success of the MCA Metal University, the readership on our case studies, and the views on our gallery. And we're only just getting started!

REGISTER NOW BEFORE IT'S TOO LATE!



The MCA Winter Meeting
January 24-26, 2022

We're excited to meet in-person at the McCormick Ranch in Scottsdale, Arizona! Join us to learn, network, and reconnect face-to-face in the beauty of the Sonoran Desert. Along with important and topical keynote speeches from experts Melissa Furman and John J. Kelly and council and committee meetings, you can take part in sessions on emerging and hot topics in metal construction to position you and your company for the future.

Members and non-members are welcome to attend!

Privacy Policy
Subscribe To This E-Newsletter
Send to a Friend
© 2021 Metal Construction Association. All Rights Reserved. Other products, names, text, and images are copyrights or trademarks of their respective owners. We respect your privacy. If you no longer wish to receive e-newsletters from Metal Construction Association, click here to remove yourself from our list.