February 2020
Metal Construction Association Newsletter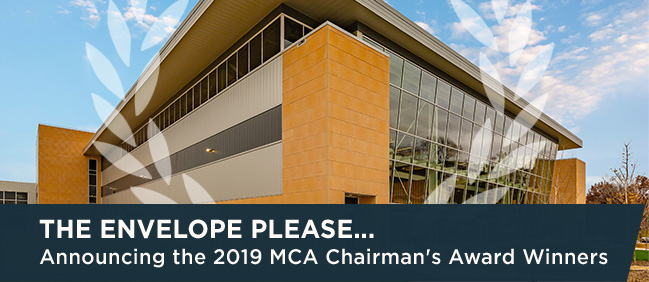 The most outstanding building projects from across the country have been awarded by the Metal Construction Association (MCA) in seven categories. The criteria include overall appearance, significance of metal in the project, innovative use of metal, and the role of metal in achieving project objectives.

The entries inspired a great deal of passion, enthusiasm and debate among this year's judging panel of distinguished architects, which included James Theimer, Principal Architect, Trilogy Architecture; Mark Roddy, Lecturer in the Department of Design, California State University, Sacramento; and Erik Mehlman, Partner and Design Lead at BuildSense | Architecture + Construction.

Award recipients are selected from projects submitted by MCA members to

Metal Architecture

magazine's annual Design Awards Program. Winners were announced at the MCA Winter Meeting Awards Dinner in Palm Springs, CA on January 14th.
Overall Excellence and Commercial/Industrial

Great Northern Way Pavilion
Vancouver, BC

Building Owner: PCI / Lowtide
MCA Member Manufacturer: 3A Composites
Installer: Keith Panel Systems Co. Ltd.
Architect: Perkins + Will
Contractor: Ledcor
Education - Colleges & Universities

The University of Texas at Dallas Engineering & Computer Science West
Richardson, TX

Building Owner: The University of Texas at Dallas
MCA Member Manufacturer: PAC-CLAD Peterson
Other Manufacturers: Kovach Building Enclosures (also Installer), Ohio Gratings
Architect: SmithGroup
Contractor: The Beck Group
Institutional:

Menil Drawing Institute
Houston, TX

Building Owner: The Menil Foundation
MCA Member Company: US Steel Corporation
MCA Member Coil Coater: PPG Industries
Architect: Johnston Marklee
Contractor: Gilbane Building Company
Municipal:

New Calgary Central Library
Calgary Alberta Canada

Building Owner: Calgary Public Library
MCA Member Manufacturer: PPG Industries, Inc.
Other Manufacturers: APEL Extrusions Limited, Hydro Portland
Installer: Ferguson Corp.
Architect: Snohetta/DIALOG
Contractor: Stuart Olson
Roofing:

Steeple Square
Dubuque, IA

Building Owner: Steeple Square
MCA Member Manufacturer: Chicago Metal Supply and Fabrication, Inc.
Installer: Durable Restoration
Architect: Jeffrey Morton Associates
Contractor: Gronen Restoration
Residential:

Keller Court Commons
Petaluma, CA

Building Owner: Jim Soules
MCA Member Manufacturer: Metal Sales Manufacturing Corporation
MCA Member Accessories: S-5!
Installers: Spaulding Metals, Crandall Roofing
Architect: Chris Lynch of MAD Architecture
Contractor: Mike Jacobs of Jacobs Classic Construction
METAL CONSTRUCTION ASSOCIATION


8735 W. HIGGINS RD., SUITE 300, CHICAGO, IL
(P) 847 375 4718 (f) 847 345 6488
(E) MCA@METALCONSTRUCTION.ORG