January 2021 Jan 1, 2021
Metal Construction Association Newsletter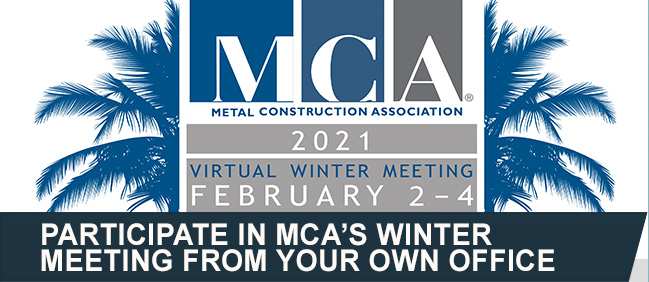 Feb. 2-4, 2021
3 Days of Not-To-Be-Missed Content and Events

The meeting may be virtual, but the benefits of attending the 2021 Winter Meeting are real and limitless! Events are spread over 3 days for even more discussions and meetings on developments vital to our industry. This is your opportunity to play an active role in the decision making and advocacy that benefit your company and metal. And, of course, we've included time for you to renew friendships and connect with key people in the industry. This is the industry's most important event of the season!


KEY EVENTS AND DISCUSSIONS





OPENING SESSION




Tues, Feb. 2 @8:30-11:00 CST


Join us for a panel discussion moderated by MCA's executive director and learn what experts predict for the economy and industry in 2021, upcoming regulatory changes, tariffs, and more. Don't miss out on this important opportunity to have the information you need to succeed in the new year!

Fundamentals of Rainscreen Design




Wed, Feb. 3 @9:00-10:30 CST


For MCM, IMP, and high-end single-skin architectural wall systems, rainscreen wall systems are a hot topic. We'll discuss the use, history, and future of rainscreens and include time for a Q&A with audience members.

Awards Presentation




Wed, Feb. 3 @1:30-2:30 CST


Always a highlight of the meeting! Celebrate the past year's best projects and accomplishments of our industry as we congratulate the winners of MCA Chairman's Awards and MCA's Bush and Swaney awards.

NFPA 285 Engineering Judgments




Thurs, Feb. 4 @8:00-9:30 CST


Modifications to the existing NFPA 285 standard are being proposed. Learn what these changes could mean for you, your business, how they're used for MCMs and IMPs, and the industry.


MCA METAL UNIVERSITY



Whether you're looking for Continuing Education credits, technical specifications, or the latest standards, MCA Metal University has it all; our online university has what you need to become an expert in all things metal. If your objective for 2021 is to take your career to new heights, MCA Metal University is the place to get started!

METAL CONSTRUCTION ASSOCIATION


8735 W. HIGGINS RD., SUITE 300, CHICAGO, IL
(P) 847 375 4718 (f) 847 345 6488
(E) MCA@METALCONSTRUCTION.ORG
Privacy Policy
Subscribe To This E-Newsletter
Send to a Friend
© 2021 Metal Construction Association. All Rights Reserved. Other products, names, text, and images are copyrights or trademarks of their respective owners. We respect your privacy. If you no longer wish to receive e-newsletters from Metal Construction Association, click here to remove yourself from our list.
​