July 2021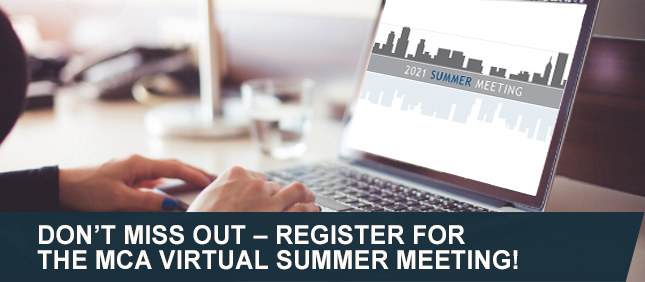 Registration is open for the MCA 2021 Virtual Summer Meeting, one of the metal industry's most valuable opportunities to obtain important industry updates and network with leaders and peers. Experts will share local and national opportunities for data-driven growth via an MCA-commissioned industry report and a view of the macroeconomy, impacts of public policy change, and business trends that will continue after the pandemic.


Tuesday, June 15, 8AM - 10:30AM CST



Join Jim Bush, MCA Chair, Judy Geller, VP of Events, PSMJ, Paul Giovannoni, managing director at FMI and keynote address from Keith Prather, managing director and co-founder of Armada Corporate Intelligence for discussions on the macroeconomy, impacts of public policy change, and post-pandemic business trends. With their insights filled with exclusive data, you'll be ready to navigate challenges and seize opportunities.

Tuesday, June 15, 11AM - 12:30PM CST



Joanna Blaney's expertise in this area is unparalleled. In this essential seminar, she explains the requirements for this certification. Learn the additional "above-code" requirements deemed critical by FM Approvals to minimize property loss risk, a key selling point when clients are building large warehouses and buildings that will contain costly equipment.

Wednesday, June 16, 10AM - 12:15PM CST



The upcoming requirements for whole-building air barriers are soon to take effect. Are you ready? Meghan McDermott will get you up to speed and in compliance with these new air infiltration standards. Her presentation will be followed by MCA Technical Director Robert "Bob" Zabcik, who will update members on recent code hearings and discuss MCA codes and standards initiatives.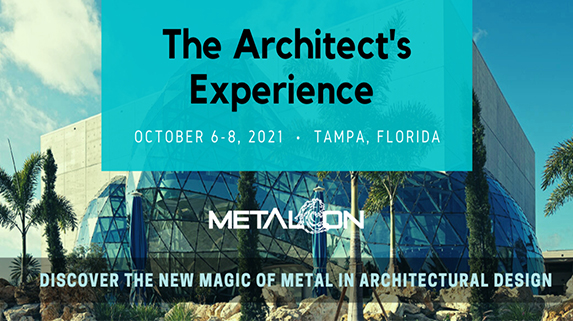 New Architect's Experience at METALCON



Discover the limitless applications for metal in design, hear from well-known architect Yann Weymouth and earn nearly a year's worth of CEUs.

Privacy Policy
Subscribe To This E-Newsletter
Send to a Friend
© 2021 Metal Construction Association. All Rights Reserved. Other products, names, text, and images are copyrights or trademarks of their respective owners. We respect your privacy. If you no longer wish to receive e-newsletters from Metal Construction Association, click here to remove yourself from our list.
​