June 2020
Metal Construction Association Newsletter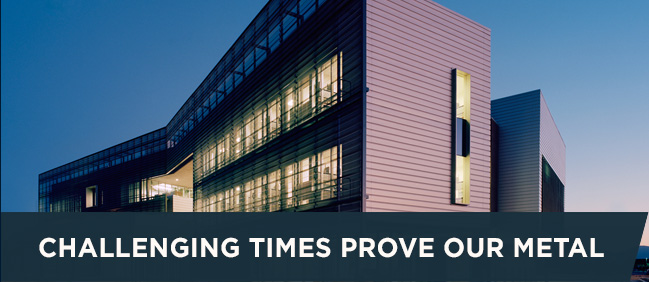 The Metal Construction Association has the passion and expertise to keep you focused on the big picture. There are no setbacks, only new opportunities. MCA is always ready for the chance to do things better and bolder. Our Summer Meeting is a prime example. Learn how this year promises to be our most exciting and innovative meeting yet. In addition, MCA has added more resources and tools for you to stay informed and thrive.

REGISTER NOW FOR MCA's VIRTUAL SUMMER MEETING, June 15-18



This year's Summer Meeting is truly special. We're sharing lectures and discussions related to metal in the building envelope and the chance to network with industry leaders and peers with as many people as possible. MCA's Summer Meeting is virtual with FREE registration for members and our guests. This is a great opportunity for non-members to experience the benefits of an MCA membership!


BECOME A MEMBER NOW AND SAVE 25%



There's never been a better time to join MCA! For a limited time, first-year members will receive 25% off dues. With an MCA membership, you'll have unparalleled networking opportunities, access to research, technical reports, industry information, and many other important benefits.


REGISTER NOW FOR METALCON



Save the date! The premiere international event for the metal construction industry is set for October 21-23 in Las Vegas, NV at the Las Vegas Convention Center. Meet face-to-face with industry leaders and key influencers and explore a vast array of products, solutions, equipment, and revolutionary technology. Three remarkable days of education, networking, and inspiration.


MCM AND THE ABBCO TOWER FIRE



The UAE's Abbco Tower fire on May 4 has heightened awareness and questions about the safety of metal composite material (MCM). But MCM, when adhering to the performance criteria defined in the International Building Code (IBC) in the United States and others, is proven to be safe and effective on a variety of construction types. Read our white paper for the full story.


CONSTRUCT DEEPER KNOWLEDGE



Unexpected downtime? We've got the perfect solution. Build on your education. Our educational platforms for members and architects are AIA accredited. Earn important Continuing Education credits.

STAY INFORMED WITH THE LATEST COVID-19 BUSINESS UPDATES



It's never been more important to be informed. Get COVID-19 webinars from The National Association of Manufacturers and the Manufacturing Leadership Council, government funding options, and up-to-date activities and restrictions by county/city.

METAL CONSTRUCTION ASSOCIATION


8735 W. HIGGINS RD., SUITE 300, CHICAGO, IL
(P) 847 375 4718 (f) 847 345 6488
(E) MCA@METALCONSTRUCTION.ORG