March 2020
Metal Construction Association Newsletter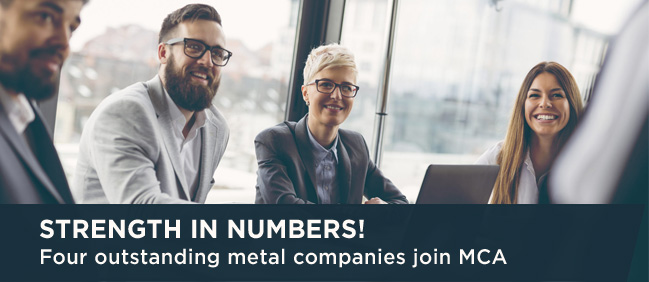 MCA is excited to welcome four new companies into our association. We look forward to their innovative contributions to the industry and involvement as valuable resources for architects, clients and all us of involved in metal construction.


| | |
| --- | --- |
| Muza Sheet Metal Co, LLC - In business since 1928, Muza specializes in architectural sheet metal, fabricating and installing insulated metal panels (IMPs) and metal composite material (MCM) panels. The company is located in Oshkosh, WI. | |
| Courtad-Dalton LLC - Headquartered in Mantua, Ohio, this company's services include metal wall systems, aluminum composite panels, custom fascia molding systems, column covers, gutters, soffits, and custom trims and flashing. | |
| Everlast Metals - This business provides architectural metal roof and wall panel systems, residential roofing, and slit coil & flat sheet distribution. They're headquartered in Lebanon PA with locations in Orwell OH, Bridgton ME, and Howe IN. | |
| Norbec Architectural Inc. - Located in Boucherville (Quebec) Canada, Norbec is a North American leader in manufacturing prefabricated walk-in coolers, freezers and doors as well as architectural insulated metal panels (IMPs) for building envelopes. | |
Not a member? Join now and get 25% off membership fees.

NEW COURSE FOR ARCHITECTS!


A primer on Metal Composite Material

Metal Composite Material (MCM) is transforming modern architecture, with increasing use in high-end monumental projects. Learn how MCM is produced, advantages to your clients, fire code considerations, various architectural applications, and more. Benefit from this valuable knowledge while earning CEUs.



METALS OF HONOR


Announcing MCA's 2020 Service Award Recipients

The Patrick R. Bush Award recognizes an MCA member who recently made significant volunteer contributions to the Metal Construction Association. The 2020 recipient, Jan Nelson, has been serving MCA since 1995. She has worked on the selection committee for activities and tours at MCA's annual events and as assistant to the 2014 -2016 MCA Chairman.

The Larry A. Swaney Award has been bestowed upon outstanding industry professionals for their contributions to the success of the association and the betterment of the metal construction industry. This year's award goes to Todd Miller. Todd has long served MCA in technical, research, marketing, governance, and government relations. He sat on the board of directors from 1999-2015 and served as Chairman in 2013 and 2014.
METAL CONSTRUCTION ASSOCIATION


8735 W. HIGGINS RD., SUITE 300, CHICAGO, IL
(P) 847 375 4718 (f) 847 345 6488
(E) MCA@METALCONSTRUCTION.ORG