March 2021 Mar 1, 2021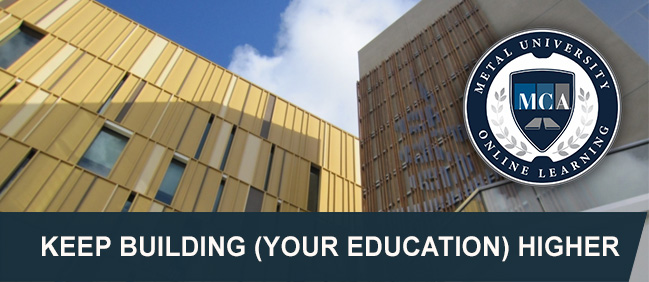 One of the most exciting things about the metal construction industry is that there are constant opportunities to build on your education. Whether you're seeking CE credits or are curious for new updates and innovations, the MCA Metal University is your resource for online learning. Check out our latest offerings and take your education to the next level!

MATERIAL PROPERTIES THAT AFFECT STEEL CLADDING PERFORMANCE



New Tech Resources!
Not all steel cladding systems are made or perform the same. Get to know the critical properties that impact the overall performance.


YOU SAY YOU WANT A (RETROFIT) REVOLUTION



Earn CE Credits!
Metal roofing and cladding panels are innovating our industry and what we build as they increasingly become the go-to in retrofit and adaptive reuse projects. This written course and exam will give you everything you need to know about best practices and the essential details of retrofit and reroofing.

ATTRACTING ROCKSTAR STAFF



Presented by METALCON! Live Business Academy
Wed., 3/10 at 1pm EST
You know bringing on incredible talent is the key to take your business to the next level. Danny Kerr of Breakthrough Academy maps out the key steps to attract and hire the perfect candidates.

FYI: Take all 6 METALCON MBA courses and receive your diploma at METALCON 2021 in Tampa!


UNDERSTANDING METAL COMPOSITE MATERIAL, INSTALLATION, AND SYSTEMS



New Course! Earn CE Credit!
Need to get the inside info on Metal Composite Material (MCM)? This course will teach you everything you need to know about distinguishing quality, and more.

Privacy Policy
Subscribe To This E-Newsletter
Send to a Friend
© 2021 Metal Construction Association. All Rights Reserved. Other products, names, text, and images are copyrights or trademarks of their respective owners. We respect your privacy. If you no longer wish to receive e-newsletters from Metal Construction Association, click here to remove yourself from our list.
​