March 2022 Mar 1, 2022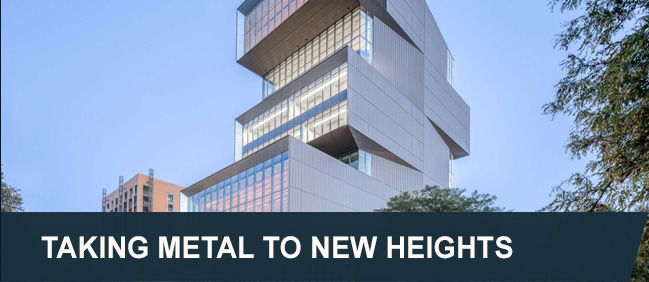 You see it on the street, and you see it from the rooftops. Whether creating a design in extreme conditions, designing the most energy-efficient hospital, or bringing out best-in-class design for a high school, metal is shaping architecture with exciting new designs, better benefits, and greener solutions.

Visit our catalog of case studies with images and drone videos, and get inspired for your next design!

METAL PROVES RELIABLE IN EXTREME CONDITIONS



The harsh temperatures and high elevation presented unique challenges for the roofing on the visitor center at Pike's Peak in Colorado Springs. Many materials wouldn't withstand the severe environment. See drone footage and read the case study to learn how metal met the Living Building Challenge and load requirements for the roof.




IMPs ARE HEAD OF CLASS AT THIS HIGH SCHOOL



When the designers learned that this high school would use their new building for many math and science classes, Insulated Metal Panels (IMPs) allowed them to incorporate a famous mathematics sequence formula in an eye-catching pattern. This case study reveals how it is was accomplished.


THIS HOSPITAL IS A LEADER IN SUSTAINABLE DESIGN



St. Michael Medical Center is the most energy-efficient hospital in Washington state. Metal panels were an essential part of the design to achieve this important goal, using 50% less energy than the average hospital in the Pacific Northwest.


MCA METAL UNIVERSITY HAS THE RESOURCES YOU NEED



You need the knowledge to stay on the cutting edge. Our online courses have everything you need to stay up to date on the metal industry: the latest codes and standards, in-depth technical resources, and white papers by subject matter experts. Build up your studies and get your needed CE credits!


MCA MEMBER SPOTLIGHT:
D.I. ROOF SEAMERS

D.I. Roof Seamers of Corinth, MS is the largest dedicated roof seamer manufacturer in the world. With an additional distribution center in Arizona, they provide unmatched customer and technical service.

Privacy Policy
Subscribe To This E-Newsletter
Send to a Friend
© 2021 Metal Construction Association. All Rights Reserved. Other products, names, text, and images are copyrights or trademarks of their respective owners. We respect your privacy. If you no longer wish to receive e-newsletters from Metal Construction Association, click here to remove yourself from our list.