November 2020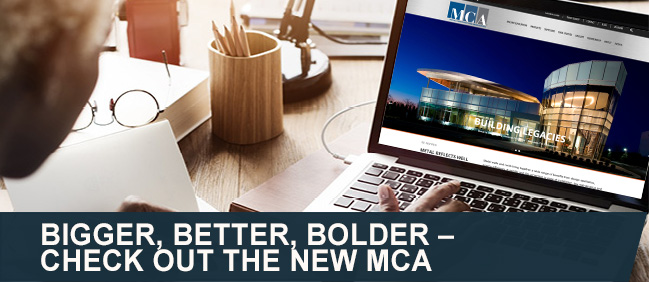 No one builds things bigger and better than the metal construction industry. So, when we decided to update the MCA website, we knew we would go beyond simply making it look good. We've added features to help you earn CE credits, win more business, and have all the resources and industry news you need right at your fingertips. We're excited to hear your feedback – check it out at www.metalconstruction.org!

MCA METAL UNIVERSITY



Metal walls are gaining popularity in both commercial and residential construction. With all the beauty, safety, and durability they offer, it's easy to see why. More and more buildings are using metal in their interior and exterior construction. Get ahead of the curve now and take advantage of all the tech resources offered on the MCA website, including installation guides, primers on design, and more.


NEW CONTINUING EDUCATION COURSE: THE ADVANTAGES OF AN IMP ROOF - EARN AIA CE CREDIT



IMPs provide a high-performance roofing solution that offers exceptional thermal performance, easy installation, and give designers creative freedom for their building profile. Learn how IMPs could be the right choice for your future projects and earn CE credit!


NOMINATE YOUR WORK NOW FOR THE MCA CHAIRMAN'S AWARDS



Want to be recognized for your innovative and dynamic uses of metal building components? The MCA Chairman's Awards showcases the very best of the industry. If you want to get your company in on the action, hurry! Deadline for submissions is Friday, November 6.


BE YOUR TEAM'S MVP FOR IMP



November 24, 2 PM ET

Join the webinar, "How to Select and Specify the Right Insulated Metal Panel for Your Project." Building professionals will learn everything about IMPs, from understanding their benefits to selecting the right IMP for each project. The course is based on published selection guidelines and the latest industry guide specifications.


TWO GREAT METALCON LIVE! VIRTUAL EVENTS



Register now for these events:

Can You Afford Not to Have Diversity in Your Workforce?
November 4, 1PM EST
Learn the link between workplace diversity, increased productivity, and the bottom line.

Bring Your MCM to Life with a Quality MCM Fabricator
November 18, 1PM EST
Learn why a quality fabricator and the right team are necessary to bring MCM to life.


METAL ROOFING: A (ALUMINUM) TO Z (ZINC)



Dec. 3-4, 2020 @ University of Wisconsin-Madison

This 2-day course is perfect for contractors, architects, and anyone involved in metal roofing design, construction, maintenance, and repair. Get up to speed on the tools and techniques to identify the best solutions to your metal roofing issues, whether you're working on new constructions, performing maintenance, or re-roofing.

METAL CONSTRUCTION ASSOCIATION


8735 W. HIGGINS RD., SUITE 300, CHICAGO, IL
(P) 847 375 4718 (f) 847 345 6488
(E) MCA@METALCONSTRUCTION.ORG
Privacy Policy
Subscribe To This E-Newsletter
Send to a Friend
© 2020 Metal Construction Association. All Rights Reserved. Other products, names, text, and images are copyrights or trademarks of their respective owners. We respect your privacy. If you no longer wish to receive e-newsletters from Metal Construction Association, click here to remove yourself from our list.
​