November 2021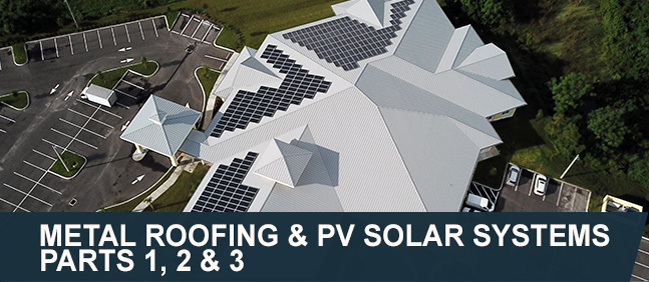 NEW WHITE PAPER SERIES!



The new series discusses why metal roofing is the ideal choice for photovoltaic (PV) systems and provides technical guidance for optimal installation and mounting of photovoltaic (PV) solar systems on metal roofing. These papers convey important information not discussed elsewhere!




THE UNIVERSITY OF WISCONSIN-MADISON PRESENTS: METAL ROOFING SYSTEMS



New course for CE Credits!
Dec. 2-3, 2021
Whether you design, install, commission, maintain or repair metal roofing systems, this 2-day course with the University of Wisconsin-Madison will ensure you get the job done right. This course will give you the knowledge and skills to identify the best solutions to metal roofing issues, whether for new constructions, performing maintenance, or re-roofing.




NEED CE CREDITS BEFORE YEAR'S END? MCA'S GOT YOU COVERED.



MCA is your one-stop shop for the articles that gives you the information you want, and the CE credits you need. Here are just a few of our available written courses:

Individual Parts Bring a Greater Whole – A Primer on MCM
Insulated Metal Panels: An All-In-One Air and Water Barrier
The Metal Retrofit Revolution


MCA MEMBER SPOTLIGHT:
MILLERCLAPPERTON

As industry leaders and experts in the field, MillerClapperton engineers and fabricates sophisticated cladding products and systems. Employees continually strive to deliver creative solutions that transform spaces through innovation to improve project accuracy, efficiency, and lead times to best serve their customers.

MillerClapperton has been selected to provide cladding systems for monumental projects in 44 states (and counting), as well as in nine countries.


CONGRATULATIONS TO THE METALCON PHOTO CONTEST AWARD WINNERS



METALCON announced the winners of its design and construction project photo competition at its annual conference and tradeshow in Tampa last month. The winners are:
Rheinzink, Bezier Curve House/A-House (Roofs)
ATAS International, David Rubenstein Forum at the University of Chicago (Walls and Grand Prize winner)
Gotca Group, Museum of Tomorrow (Interior and Ornamental/Architectural Features)


HAVE YOU REGISTERED?



MCA Winter Meeting
January 24-26, 2022

MCA Winter Meeting Keynote Speakers
Melissa Furman and John J. Kelly
We've lined up two amazing speakers for the return to our in-person meeting! Ms. Furman MS DBA will evaluate and strengthen your leadership skills along with your abilities to adopt winning strategies to succeed against ongoing hot-topic challenges. Mr. Kelly will discuss the upcoming midterm elections, what results will mean for your company, and how to take advantage of opportunities before and after the election. Their presentations will get you and your company ready for success in 2022 and beyond!

Privacy Policy
Subscribe To This E-Newsletter
Send to a Friend
© 2021 Metal Construction Association. All Rights Reserved. Other products, names, text, and images are copyrights or trademarks of their respective owners. We respect your privacy. If you no longer wish to receive e-newsletters from Metal Construction Association, click here to remove yourself from our list.
​