October 2020 Oct 1, 2020
Metal Construction Association Newsletter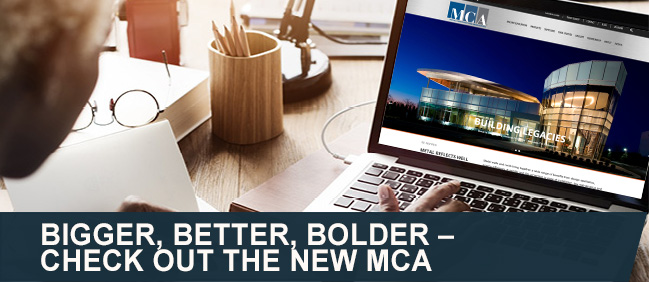 For the metal industry, walls aren't barriers. They're opportunities to open up construction to innovative designs that offer one-of-a-kind looks and improved safety and durability. This month, we're putting the spotlight on metal walls and the multitude of capabilities and reasons to consider them for nearly any project.

Plus, you asked – we listened! For those of you who missed (or want to re-watch) our latest live webinars, they're back and available to watch at YOUR convenience. Learn and earn now!

GET A WINDOW ON THE BENEFITS OF METAL WALLS



Metal walls are gaining popularity in both commercial and residential construction. With all the beauty, safety, and durability they offer, it's easy to see why. More and more buildings are using metal in their interior and exterior construction. Get ahead of the curve now and take advantage of all the tech resources offered on the MCA website, including installation guides, primers on design, and more.


SLEEK, UNIQUE, AND SMART: CHECK OUT OUR GALLERY OF METAL WALLS



Whether it's for office, retail, or home, metal cladding gives an environment a warm, distinct look. But what's the point in telling you, when you can see for yourself? Check out our portfolio of metal walls now.


DO YOU HAVE A PROJECT THAT DESERVES THE BEST SEAT AT THE TABLE? ENTER IT TO WIN A CHAIRMAN'S AWARD



The MCA Chairman's Awards is the showcase for the best of the best in the industry. Do you have a project that demonstrates excellent and innovative design and use of metal? Nominate it now! Deadline is November 6, 2020.


MISSED THE LIVE WEBINARS? WATCH THEM NOW!



Earn CE Credits!
By popular demand, our recent webinars are once again available for you to watch! "INSULATED METAL PANELS: THE ALL-IN-ONE AIR AND WATER BARRIER" explores the continuous insulation benefits of IMPs and their enhanced safety in the field. "PUT THE PEDAL TO THE METAL" reviews the life-cycle benefits and energy efficient advantages of metal roofs and walls.


METALCON LIVE! IS BACK: "CONSTRUCTION, METAL CONSTRUCTION, AND DESIGN: TRENDS AND OUTLOOK".



WED. OCT 7 @ 1pm EST
Learn the fundamental changes coming in the economy and be prepared with insider news and opinions from industry giants to help you keep growing your business – no matter what direction in the overall market.


GET MORE FOR LESS: JOIN NOW AND SAVE 25%



MCA is making 2021 the year we greatly expand the resources and opportunities we offer our members. So now is the time to sign up for a membership – at 25% off! As an MCA member, you'll have unparalleled networking opportunities, access to research, technical reports, industry information, and many other important benefits.


THE 2021 WINTER MEETING IS *ON*! FEB. 1-3



Whether it's live or virtual, the 2021 Winter Meeting is going to be the season's event to get all the latest industry news, network with industry leaders, and meet up with friends and associates. Save the date for this essential industry event!


SAVE THE DATE: METALCON OCT. 6-8, 2021



Next year's METALCON is going to be bigger, better, and stronger than ever before, so mark your calendar now. METALCON 2021 will take educational forums, networking, and opportunities to grow and expand your business to the next level. We look forward to seeing you at the Convention Center in Tampa, Florida!

METAL CONSTRUCTION ASSOCIATION


8735 W. HIGGINS RD., SUITE 300, CHICAGO, IL
(P) 847 375 4718 (f) 847 345 6488
(E) MCA@METALCONSTRUCTION.ORG
Privacy Policy
Subscribe To This E-Newsletter
Send to a Friend
© 2020 Metal Construction Association. All Rights Reserved. Other products, names, text, and images are copyrights or trademarks of their respective owners. We respect your privacy. If you no longer wish to receive e-newsletters from Metal Construction Association, click here to remove yourself from our list.
​