September 2020 Sep 1, 2020
Metal Construction Association Newsletter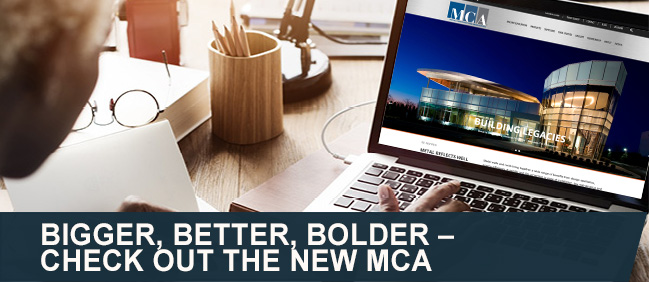 When you're in the metal industry, the education never stops. There's always a new product, regulation, or industry trend to learn about. That's why this September, MCA is providing some important educational tools. We have an upcoming live IMP webinar, a new white paper with a model for safer, stronger roofing that goes beyond code and, most excitingly, an essential members-only Market Report that shows how our industry has been affected by the COVID-19 pandemic, and what trends to expect - and take advantage of – in 2021 and beyond. Open the laptops and brew up some coffee – this month, class is in session!

MCA PUBLISHES NEW MARKET REPORT



More than ever, understanding where the market is and where it's going is critical for companies in the metal industry. MCA has created a special, members-only statistical study that examines the unprecedented volatility in the wake of the global pandemic. Know what's possible in the future, what's probable, and how you should adjust your business model for these challenging times.


BECOME AN MCA MEMBER NOW AND SAVE 25%



The Market Report is just the beginning of the reasons to join MCA. We have upcoming news and offerings that we're excited to soon announce! These resources will help members network, gain access to expert research and technical reports, and boost the bottom line. Plus, for a limited time, first-year members receive 25% off dues. As an MCA member, you'll have unparalleled networking opportunities, access to research, technical reports, industry information, and many other important benefits.


WEBINAR: INSULATED METAL PANELS
Sept. 23, 2PM EST

Explore the performance benefits and versatility of Insulated Metal Panels (IMP) in this LIVE webinar. We'll explain why IMPs are an all-in-one water and air barrier and also review the benefits that IMPs deliver, including cost-effectiveness, time-efficiency, and their enhanced safety in the field.
Credits: 1 AIA LU/HSW; 1 AIBD P-CE; 0.1 IACET CEU


SUCCESSFUL ROOFING JUST WON'T FLY



We've all seen footage of "flying" roof elements that lead to roofing failure and building damage. Go beyond the minimum requirements and achieve a safe, stronger building. Our white paper, "Roofing Best Practices: FORTIFIED HOME PROGRAM", provides performance guidelines as well as a model for certification for improved weather resistance and performance.


SAVE THE DATE FOR THE 2021 WINTER MEETING



Join us February 1-3 for the MCA 2021 Winter Meeting. We're getting out of the cold and convening at the Hyatt Regency Clearwater Beach Resort & Spa in Clearwater, Florida. Learn about the latest industry news, network with industry leaders, and get together with friends and associates for a memorable, fun time. More information coming soon!

SAVE THE DATE FOR METALCON:
OCTOBER 6-8, 2021

When you have to cancel the premiere event in the metal construction industry, you make sure you come back next year bigger, better, and stronger than ever before. Mark your calendar now, because METALCON 2021 is going to be twice the fun, twice the networking, and feature a hundred times more opportunities to grow and expand your business. We look forward to seeing you at the Convention Center in Tampa, Florida!


STAY INFORMED WITH THE LATEST COVID-19 BUSINESS UPDATES



As states and businesses continue returning to work, it's never been more important to have the right information. Get COVID-19 webinars from The National Association of Manufacturers and the Manufacturing Leadership Council, government funding options, and up-to-date activities and restrictions by county/city.

METAL CONSTRUCTION ASSOCIATION


8735 W. HIGGINS RD., SUITE 300, CHICAGO, IL
(P) 847 375 4718 (f) 847 345 6488
(E) MCA@METALCONSTRUCTION.ORG
Privacy Policy
Subscribe To This E-Newsletter
Send to a Friend
© 2020 Metal Construction Association. All Rights Reserved. Other products, names, text, and images are copyrights or trademarks of their respective owners. We respect your privacy. If you no longer wish to receive e-newsletters from Metal Construction Association, click here to remove yourself from our list.
​