September 2021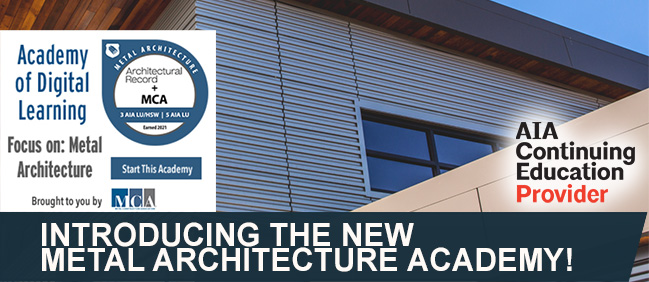 MCA's new Metal Architecture Academy on Arch Record's CE Center is the perfect place for online learning and CE credits. Our objective for the academy is to illuminate the array of wall and roof systems available, inspire with award-winning designs, and demonstrate the value of metal solutions which meet and exceed energy codes and provide numerous health, safety and wellness features. Complete all courses and receive a special digital badge.


WEBINAR: JOIN MCA & TWO TOP ARCHITECTS



September 30 at 2PM EDT Join Andrew Weigand, AIA, NCARB, Principle at Gluckman Tang Architects and Chandra Robinson, a Principal at LEVER Architecture, along with Tom Seitz, MCA's MCM Alliance director to discuss Metal Composite Material (MCM). Learn how variations in metal, thickness and finish work together as a whole performance system to provide visual appeal, wind loading transfer and fire performance. A moderated discussion will follow the presentation. Get CE credit.


METALCON IS ON!



Oct. 6-8 in Tampa, Fla.
Wondering what Deadliest Catch star Captain Keith Colburn can say that will help you make more money and grow your business? Or how Ken Simonson, Chief Economist, Associated General Contractors of North America can identify patterns and trends that will affect the entire metal industry? Prepare to be amazed because they are our Keynote Speakers! Along with their inspiring talks, you'll get three days of access to some of the most buzzed about metal construction products, innovative solutions applications, and the latest techologies to make your business more profitable!


DON'T FORGET YOUR 2021 CE CREDITS



MCA Metal University has you covered: Continuing Education credits and certifications, white papers with the latest standards and safety regulations, technical specifications, and more. End 2021 ready for 2022!


MEMBER SPLOTLIGHT:
ATAS INTERNATIONAL, INC.

Founded in 1963, ATAS International, Inc. is a leading manufacturer of metal roofing, wall cladding, ceilings, perimeter edge metal, and accessories.

The ATAS portfolio features an expansive selection of products available in aluminum, steel, zinc, stainless steel, and copper. Standard profiles include narrow and wide ribbed wall panels, corrugated styles, standing seam and batten seam roof systems, metal shingles, shakes, tiles, and more.

ATAS's manufacturing facilities are located in Pennsylvania, Arizona, and Illinois.


THE 2022 MCA WINTER MEETING



Join us January 24-26 in Scottsdale, AZ!
New year, new opportunities! We will position you and your company for the future with council and committee meetings and sessions on emerging and hot topics in metal construction. Meet in-person to learn, network, and reconnect face to face in the beauty of the Sonoran Desert!

Privacy Policy
Subscribe To This E-Newsletter
Send to a Friend
© 2021 Metal Construction Association. All Rights Reserved. Other products, names, text, and images are copyrights or trademarks of their respective owners. We respect your privacy. If you no longer wish to receive e-newsletters from Metal Construction Association, click here to remove yourself from our list.
​