February 2022 Feb 1, 2022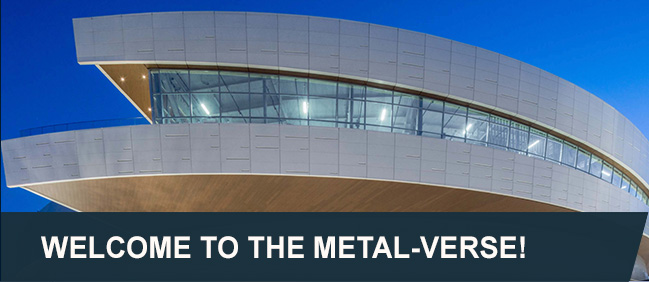 While the "Metaverse" is being touted as a place where all things are possible, those using metal for architectural projects know the "Metal-Verse" also contains a universe of forward-thinking benefits. From incredible durability to exciting design possibilities, metal provides a solution for most any challenge. From the MCA Metal University and our library of case studies to our stunning gallery, MCA has the tools and resources to give you the knowledge and inspiration to stand above the crowd and win more business!

GET YOUR BADGE - BUILD YOUR BUSINESS!



Earn A Digital Badge
The Metal Architecture Academy has the resources to make you an expert in designing with metal. And when you complete eight continuing education courses, you'll have the CE credits and the digital badge to prove it. Upon completion you'll not only know the benefits and savings metal composite material (MCM), insulated metal panels (IMPs), and single skin metal panels offer, but also everything you need to about metal roofing, retrofitting, and more!




BUILD THE FUTURE WITH METAL



There's a good reason the market for metal roofing and cladding is growing. Learn how metal is the right choice for safety and sustainability.


BIG CHANGES FOR THE BIG APPLE'S BUILDING CODE



The New York City Building Code (NYCBC) has received its first significant update since 2014. Find out how the changes impact metal cladding.


MCA MEMBER SPOTLIGHT:
NORBEC

Norbec is the North American leader in manufacturing insulated metal panels for cold storage and building envelope applications. Learn how the company has benefitted from MCA for great resources, access to the latest industry information, and forging connections with valuable contacts.


GET IN SHAPE WITH METAL WALL PANELS



Metal wall panels are an increasingly popular choice for exterior cladding thanks to their versatility. Our gallery shows how metal wall panels are applied in creative ways on high-rises, retail facilities, commercial, industrial, educational, and multiuse buildings.



Privacy Policy
Subscribe To This E-Newsletter
Send to a Friend
© 2021 Metal Construction Association. All Rights Reserved. Other products, names, text, and images are copyrights or trademarks of their respective owners. We respect your privacy. If you no longer wish to receive e-newsletters from Metal Construction Association, click here to remove yourself from our list.